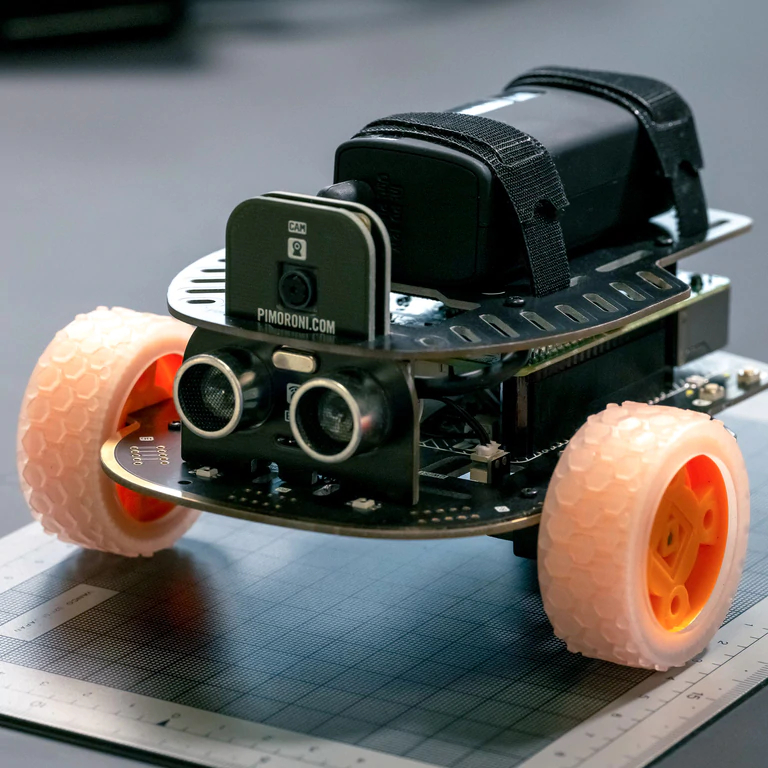 The motor driver hardware is built into the chassis itself, they highlight, so you don't need a separate HAT to handle the motors.
With two front wheels and one rear castor, features include buttons and status LEDs, six-zone RGB LED underlighting and a front facing ultrasound distance sensor. There's also a camera mount (with the camera sold separately) for the vision thing.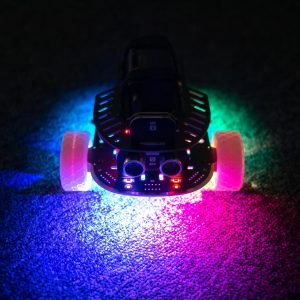 The hardware onboard supported by a Python library, with controller code and examples developed by the company's Trilobot testing team.
The Base Kit comprises:
Trilobot main, top, front and camera boards
2x 110:1 motors with pre-soldered shims
2x motor cables
2x grippy moon-buggy wheels
1x ball castor
Ultrasonic distance sensor
Booster header for attaching your Pi
USB-C power cable for connecting a power bank (not included).
Associated nuts, bolts and mounting hardware
Costing £48 from the Pimoroni store, there are options to pay extra for accessories such as a Raspberry Pi Camera v2 (Standard, £24), a NOOBS microSD card (3.3, 16MB, £9) and a NanoWave 3 5000mAh USB-C & A Power Bank (£18). And you will also need a Raspberry Pi 4, of course, which is not included.
Pimoroni writes:
"Driving around a tricked out horseshoe crab on wheels is fun, but if you want to add extra functions to your Trilobot, that's no problem. With a Raspberry Pi camera attached to the tidy built-in camera mount you can record yourself a robot's eye view, or even add some AI/machine learning into the mix.

"It comes with an ultrasonic distance sensor so it can stop itself from bumping into things but we've made it easy to add more – there's two connectors for plugging in breakouts with Qwiic or STEMMA QT connectors, and broken out headers for adding up to five sockets for Breakout Garden breakouts (requires soldering)."
Note that a Complete Kit – priced at £130 – includes a Raspberry Pi 4, SD card, camera and USB battery pack.
You can read more about the Trilobot on the company's website, and checkout the video below:
See also: Kitronik plugs in a Robotics Board for Raspberry Pi Pico