Are you looking for interesting webinar statistics for 2022? You're in the right place.
The webinars are more popular than ever and this trend is only expected to grow in the coming years. 
Thanks to the Pandemic as more people are spending time online. The majority of the businesses are increasingly turning to webinars as a way to reach wider audiences and generate more website traffic. 
Are you also one among them? Do you want to use webinars to promote your business, educate your audience, or grow your brand? 
Then, here are are an amazing list of webinar statistics for 2022 you ought to know. These stats are extremely useful for bloggers, marketers, and creators all around the world.
35 Webinar Statistics, Facts & Trends for 2022 
Webinar Growth Statistics
Webinars are growing at a rapid rate. Here are some of the useful webinar growth statistics you may want to know.
1. The webinar market is projected to reach $800 million by 2023, according to Research Nester. This growth can be attributed to a number of factors, including the increasing popularity of online learning and the growing need for businesses to connect with their employees remotely.
2. 57% of marketers run 50 webinars per year.
3. On average, B2B marketers generate 500 to 1000 leads per webinar. 75% of respondents use webinars to build their brand. 76% of respondents boost their lead generation with webinars.
4. By 2022, it's estimated that over 80% of businesses will be using webinars on a regular basis. This is due to the fact that webinars are an efficient and cost-effective way to reach large groups of people.
5. 29% of all webinars are produced by software and technology companies (GoTo Webinar).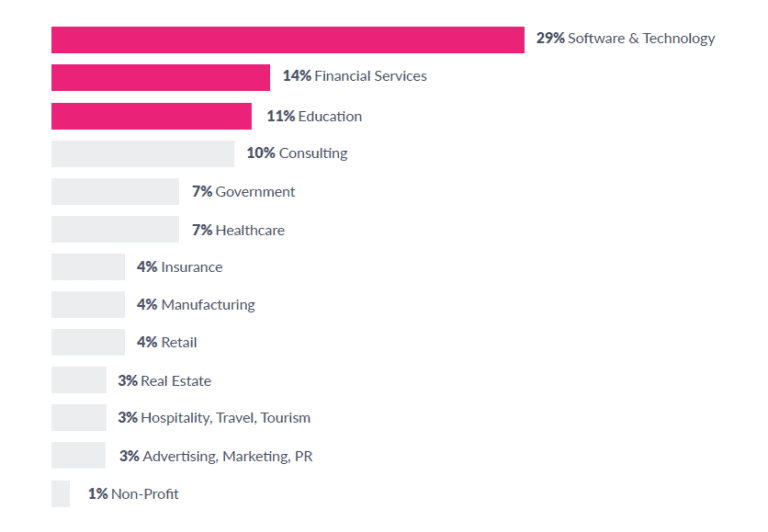 ---
Webinar Promotion Statistics 
Here's a list of some of the amazing webinar promotion statistics for 2022.
1. According to OptinMonster, 58% of marketers use webinars as a promotion tool.
2. Wednesday is the best day to run a webinar, with a response rate of 26%. While weekends only get a 1 to 2% response rate (According to LiveWebinar).
3. Email is the most effective tool for webinar promotion and email drives 57% of webinar registrations (GoToWebinar).
4. 89% of marketers believe webinars outperform other channels in creating qualified leads (Business Wire).
5. Content Marketing Institute reports that 78% of B2B marketers use webinars as a content marketing tactic and that 61% of respondents find them to be effective.
6. HubSpot found that webinars are the third most popular type of content after ebooks and blog posts, with 60% of marketers planning to use them more in the future. 
7. You can get up to 15% of registrations through social media platforms such as Facebook, Twitter, and LinkedIn.
8. According to 89% of marketers, webinars outperform other channels when it comes to generating qualified leads.  66% say their sales teams prioritize leads that come from webinars. (Business Wire)
9. On average, 33% of the signups occur on the day of the webinar (GoTo Webinar)
10. 54% of people sign up at least eight days before the webinar. This gives them time to clear their schedules and set aside time to attend the event. However, some people do wait until the last minute to sign up. Regardless of the reason, it is important to provide plenty of notice for people who want to attend a webinar. 
---
Webinar Statistics for Creators
Here are some of the important webinar statistics that you need to know if you're a webinar creator or planning to create one. 
1. 93% of people attend webinars on a desktop computer. 25% of webinar attendees say that they've watched a webinar on a mobile device. (Source: WebinarSoftware.org)
2. The average webinar will be between 60 to 90 minutes long. Webinars will be attended by an average of 30 people. The average person will register for 4-5 webinars per month. The average person will attend 2-3 webinars per month.
3. The ideal length for a webinar is between 30 and 45 minutes. However, 44% of attendees prefer webinars to last 45 minutes, while 41% of attendees like webinars to last 30 (CloudInCome)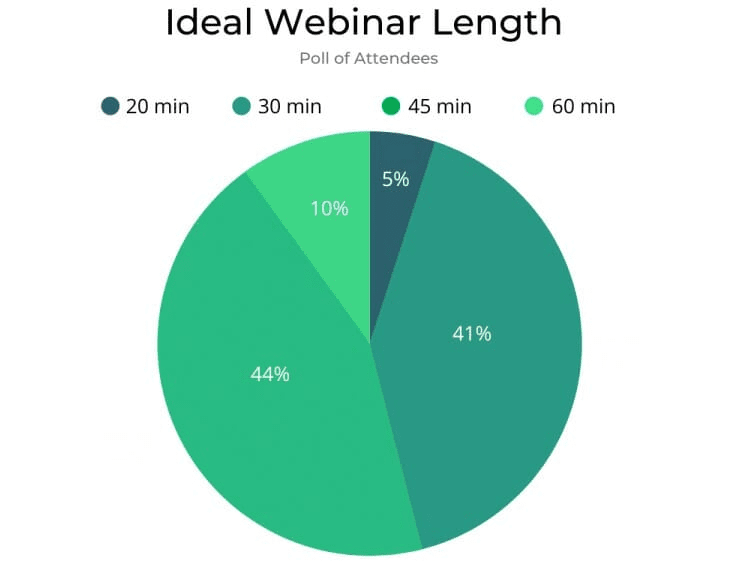 4. 60-minute webinars attract more attendees than 30-minute webinars, according to Work Cast.
5. The top 5 webinar topics for 2022 are: 1) Business 2) Health and Wellness 3) Technology 4) Education 5) Finance
6. Around 40-50% of the webinar registrants will actually attend your webinars (Webinar Software).
7. 10 days after an event, you could still have 47% views if you have recordings available. That number drops to 24% after 20 days. By day 30, you'll only get 10% views. (Smart Insights)
8. 74% of hosts use a designated webinar platform instead of a video platform like Vimeo or YouTube (Webinar Software)
9. 58% of webinar hosts use both live and on-demand webinar capture, meaning that people can replay their content after the event (CloudInCome)
10. Between 2% and 5% of webinar attendees will purchase an offer at the end of a webinar (CloudInCome). That means that if 100 people attended a webinar, at least 2 to 5 of them would purchase the product or the offer. 
---
Interesting Webinar Statistics (General)
Here are some general webinar statistics that may surprise you.
1. 80% of its users run a Windows operating system. Only 18% use Apple devices (13% Mac, 5% iOS). Only 2% are on Android devices. (MegaMeetings)
2. Webinars have a conversion rate of between 5% and 20%, higher than most content types.
3. 35.6% of webinars are training sessions and online courses. 27.8% of online events were marketing and product demos, 11% were business meetings, and 22.9 had various purposes. (Click Meeting)
4. An average of 55% of webinar registrants convert to attendees. That means the webinar landing page conversion rate is usually around 55%.
5. The number of people who have attended a webinar in the past year has increased by 20%. This growth is driven by the increasing popularity of digital marketing, as well as the growing awareness of the benefits of webinars.
6. Webinars can cost as little as $100 to create and host. However, running a webinar usually costs between $1000 to $3000 depending on the software and marketing promotions. (Cloud Income)
7. Consumers say they are 27% more likely to sign up for a webinar that teaches them something about a hobby or passion.
8. 78% of webinars have 50 or fewer attendees. (GoTo Webinar)
9. The average webinar generates between 500 to 1000 leads. The average webinar attendee conversion rate is usually around 55%.
10. When asked what they would most like to see in their webinars, consumers reported that they would most like (around 22%) to see a webinar host that takes questions from the audience. (HubSpot)
---
FAQs | Webinar Statistics & Facts 2022
Here are some of the frequently asked questions about webinar stats, facts, and trends for 2022.
How long should my webinar be?
There is no one answer to the question of how long a webinar should be. Typically, a webinar should last anywhere between thirty to sixty minutes. A general rule of thumb is to keep the webinar as short as possible while still covering all the important points.
What is the best day to host a webinar?
Thursday is the BEST day to host a webinar followed by Wednesday and Tuesday. 
Are webinars important for a business?
Many companies have turned to webinars as a way to connect with clients and customers. Here are some of the benefits of using a webinar for your business.
– webinars are a cost-effective way to reach a large audience (unlike in-person events)
– webinars can be conveniently accessed from anywhere in the world
– webinars allow businesses to build relationships with their audience through interactive features such as Q & A sessions
What is the average webinar attendance rate?
The average attendance rate is between 40% to 50%. That means, approximately 40% to 50% of registrants attend the webinars.
What's the best time to host a webinar?
According to ON24's Webinar Benchmarks Report, the best time to run webinars is at 11 AM Pacific (2 PM. Eastern). 
---
Final thoughts on webinar statistics 2022
Undoubtedly, webinars have become an excellent way to share information and connect with audiences and customers online.
We hope you liked our handpicked list of webinar statistics for 2022. Bookmark this page as we'll keep this page up-to-date with the latest stats and facts about webinars. 
Are you using webinars for promoting your business? Have any questions? Let us know in the comments.