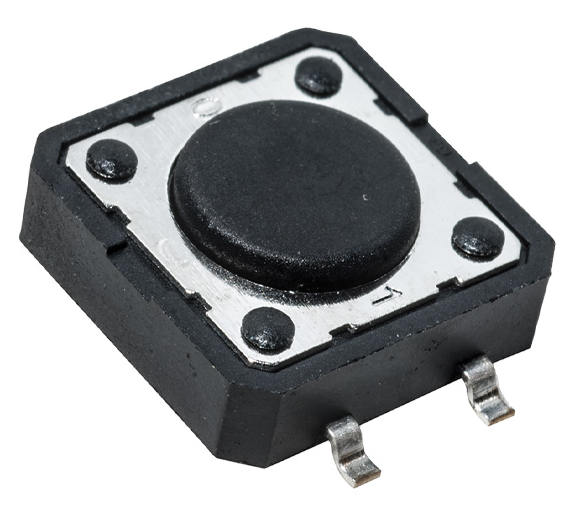 "With the growing demand in long lasting instrumentation and machinery, the PTS125 has had to be improved to fit industry needs," said C&K product manager Daisy Liu. "Flexibility in design is important since every end-product is different. We are adjusting our product offering to reflect a more inclusive product line that can be used for years to come."
Previous versions were rated at 200,000 cycles, and to these have been added one million cycle and five million cycle variants.
For 1m cycle types, there is a choice of four actuation forces: 130, 180, 250 and 350g – with 0.2, 0.25, 0.3 and 0.35mm travel respectively. For 5m cycle types, there are only 130g parts.
As well as longer life versions, there is now a wider choice of actuator. Where once there was only 7mm diameter buttons either 4.3, 7.3 or 8.5mm high (PCB to button summit), now there are profiled square (3.8mm per side) stubs on which to snap on actuator tops (7.3mm tall), and 4mm circular stubs with side wings for push-on actuator tops that need that style of mount (12mm tall).
PCB mounting options are through-hole and now surface-mount, with or without PCB alignment pegs in both cases.
To tell the life of the parts from the part number, 200,000 cycle parts begin PTS125… and end …2LFS. One million cycle parts end …1MLFS and five million cycle parts end 5MLFS.
All parts continue to have IP40 dust sealing and 50mA 12Vdc single-pole normally-open contacts.
Operation is over -40 to 85°C