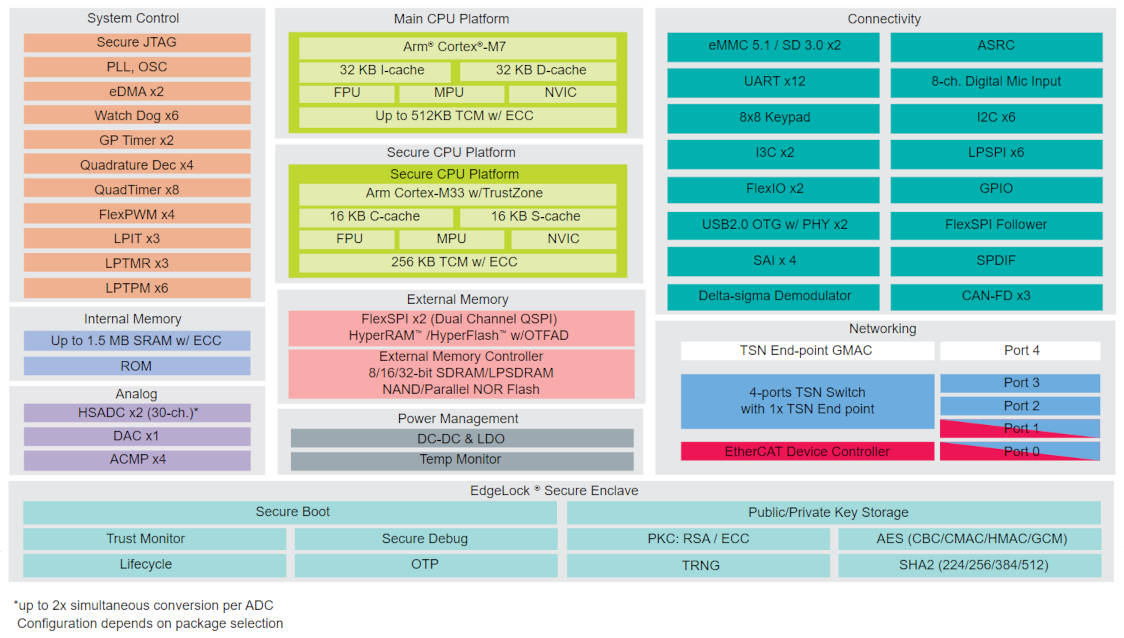 Called i.MX RT1180, the family can handle real-time industrial ethernet protocols such as Profinet, Ethernet/IP, EtherCAT, CC-Link IE Field and HSR, as well as TSN standards compliant to IEC 60802. Protocols include OPC UA Pub-Sub, Profinet over TSN and CC-Link IE TSN, according to the company.
Up to five Gbit/s ports are available, including four ports on the TSN switch (layer 2) and one port on the TSN end-point controller.
The main processor is an 800 MHz Arm Cortex-M7, then security processing comes from a 240MHz Cortex-M33 with Arm's TrustZone, backed by the company's 'EdgeLock' root-of-trust that manages secure boot, authenticated debug, life-cycle security, keys and tamper monitoring.
"Industrial environments are moving towards Industry 4.0, creating a complex mix of networking protocols," said NXP. "This can make it difficult to enable seamless connectivity across both time-sensitive and real-time communications. i.MX RT1180 provides the needed multi-protocol connectivity to accomplish this, driving a unified and secure industrial IoT communication environment at all edges of the factory."
Packages start at a 10 x 10mm BGA, operation over -40 to 125°C, as well as down to 250mW using the integrated power converters, is possible said NXP.
It predicts stand-alone use in IO management, motor control, motion control and gateways, or as a companion chip adding Gbit networking to a host processor, and added: "RT1180 is also suitable for automotive connectivity applications, which increasingly rely on Ethernet TSN".