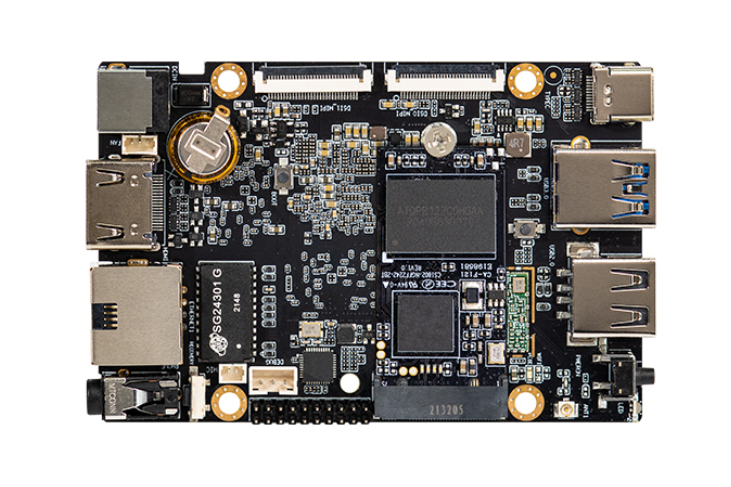 Last year, around this time we saw a credit-card-sized single-board computer from Firefly, built around Rockchip RK3566– ROC-RK3566-PC. In 2022, Firefly released another credit-card form factor single board computer, ROC-RK3588S-PC, powered by a cost-optimized Rockchip RK3588S, an 8-core 64-bit processor for 8K video encoding and decoding. Typically designed for edge computing, artificial intelligence, cloud computing, augmented and virtual reality, and multimedia applications, the mainboard supports up to 32GB RAM and NVMe SSD expansion.
As mentioned earlier, at the heart of the ROC-RK3588S-PC is the next generation AIoT SoC which was unveiled at the Rockchip Developer Event in December 2021 but not many details were available in the public domain. Thanks to CNX-Software, the datasheet for Rockchip RK3588S has been made available highlighting the differences with its original RK3588 high-performance system-on-chip. Some of the differences include the additional HDMI port for video output, which is listed in the datasheet but cannot be seen in the block diagram.
Rockchip RK3588S is a low-power, high-performance processor integrating a quad-core Cortex-A76 and a quad-core Cortex-A55 with a separate NEON coprocessor. The neural network acceleration engine provides processing performance of up to 6 trillion operations per second that support deep learning frameworks such as TensorFlow, Caffe, Tflite, Pytorch, Onnx, NN, Android NN, etc. The graphics engine comes from Arm Mali-G610 supporting high-performance OpenGLES 1.1, 2.0, 3.2, OpenCL 2.2, and Vulkan 1.2, among others.
Evidently specifying the mainboard capable of 8K video encoding and decoding is all possible because of the rich onboard video processing techniques. They support 8K at 60fps H.265/VP9 video decoding and 8K at 30fps H.265/H.264 video encoding which can be done simultaneously. High-quality video processing is possible because of the flexibility to choose from the onboard DRAM which can be up to 32GB, unlike RK3568 which is limited to 8GB. Interestingly, the ROC-RK3588S-PC supports multiple channel input and output with HDMI 2.1 8K video output along with USB-C (DP1.4) and dual MIPI-DSI multi-channel video output allowing up to four-screen video outputs for different displays.
When it comes to wireless connectivity, the board supports 2.4 and 5GHz dual-band Wi-Fi and Bluetooth 4.2 for IoT applications. There also comes an RJ45 Ethernet port capable of 1000Mbps speed of transmission. To increase onboard storage, there is M.2 PCIe2.0 interface that can be connected to a 2242 NVMe SSD storage device, allowing developers to expand storage with TB storage capacity.
More details on the specifications are available on the official product page. The ROC-RK3588S-PC currently sells for $219.00 for 4GB RAM and 32GB storage while the 8GB/64GB module seems to be out of stock at the moment.