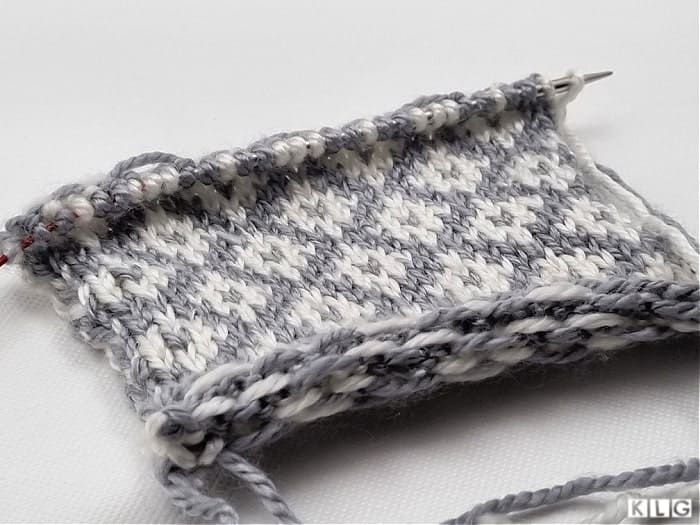 ChiaoGoo has a great selection of interchangeable knitting needles. Their, twist, and red lace cables are all of high quality.
But are they right for you? Let's find out in my review!
Table Of Contents
Chiaogoo Interchangeable Knitting Needles Review
Twist Mini Interchangeable Sets
4 Inch Twist Mini

Check Price On Amazon
5 inch Twist Mini

Check Price On Amazon
For when you knit something with superfine yarn, and need tiny needles that still feel nice in your hands.
The needles have two holes for tightening.
How Does It Compare?
Made Of – Surgical stainless steel, with a steel cable coated in red nylon
Cable Length – 8″, 14″, 22″ (20, 35, 55cm)
Needle size – US 000, 00, 0, 1, 1.5 (1.5, 1.75, 2, 2.25, 2.5mm)
Notions – 2 tightening wires, 6 stitch markers, a needle gauge, a heart-shaped rubber grip and a black case with zippered pockets
Are They Comfortable? – Mostly, however, as they're small and made of metal, I suggest taking regular breaks, especially if you have hand pain
Do The Stitches Stay On The Needle? – Usually, though the metal is slippery, so be careful
Durability – Super durable, as they're made of the finest steel, so these ones last for years
Product Design
Customers of Chiaogoo wanted smaller diameter needles and cables to make smaller circumference projects. Chiaogoo delivers!
Pros
Surfaces are smooth
Long needles with sharp points
Cables don't kink, nor do they get twisted
Great extras
Reasonable shipping for your orders
This interchangeable knitting needle is perfect for fine lace knitting
Store the included notions and others in the zippered pocket
Cons
This system isn't compatible with Chiaogoo's other Small [S] or Large [L] interchangeable systems
Not suitable for beginners, as if you're a loose knitter, your stitches in the wool slip off
If you have nickel allergies, stainless steel does contain a small amount of this metal. These needles are not for you.
Spin Interchangeable Sets
Spin Bamboo 4 inch complete set

Check Price On Amazon
Spin Bamboo Large 5 inch Tip Set

Check Price On Amazon
This seller is mostly known for their metal needles, but still offers moso bamboo needles at an affordable cost.
These needles have well-defined tips, but are not so pointy as to irritate your finger.
If you're working cables, the tip definition makes stitch manipulation easy.
The nylon cables allow tips to swivel freely. Switchable tips, cables, and accessories for SPIN & TWIST! Red cables can be used on these knitting needles.
If you are a fan of wooden needles, these are an excellent choice.
How Does It Compare?
Made Of – Bamboo knitting needle tips and clear nylon cords
Cable sizes – 8″, 14″, 22″ (20, 35, 55cm)
Needle Size – US 2, 3, 4, 5, 6, 7, 8, 9, 10, 10 1/2, 11, 13, 15 (2.75, 3.25, 3.55, 3.75, 4, 4.5, 5, 5.5, 6, 6.5, 8, 9, 10mm)
Notions Included – S and L end caps, an S and L cable connector for longer cords, two cord keys, a ruler/needle sizer, and stitch markers
Are They Comfortable? – The surface is smooth and feels lovely in your hands
Do The Stitches Stay On The Needle? – Yes, because there's more grab on these than metallic surfaces. Excellent for slippery yarns.
Durability – Strong and varnished for protection against scratches. But because of the material, they're more prone to wear and tear than metal
Product evolution
The older version of Chiaogoo's Bamboo Spin interchangeable set have a nickel-plated, copper join at the end of each tip and cable. Now the metal joins are stainless steel. This is a good sign that this brand cares about knitters with allergies.
Pros
An excellent interchangeable set for those who dislike metal
Use the clear cords for lightweight knitting projects where a heavy cord would kink
The light-colored body is polished to provide good smoothness
The join is smooth, and rarely comes undone
This interchangeable needle is easy to work with
Make things for yourself or friends
Of all the brands on the market, Chiaogoo's extenders are not too big
The front compartment can hold accessories
The attention to detail is excellent
Cons
Flexibility of the clear cord is a drawback for heavier projects. Sometimes, the stitches slide off the needle when you slide the cable onto it
Don't sit on the smaller sizes, as they might break or splinter
Not polished with resin, so it's not as sharp as their other offering
Twist Interchangeable Sets
Twist 4 inch Red Lace Interchangeable Complete Set

Check Price On Amazon
Chiaogoo Twist Red Lace Interchangeable 5 inch set

Check Price On Amazon
The twist cables are coated with red nylon, making them durable and pliable.
A unique feature of the needles is the joins between the needle and cord are super smooth, so there's no risk of snagging your yarn.
How Does It Compare?
Made Of – Stainless steel, and the red twist cables are made of multi-strand steel coated in nylon
Cable Lengths for 4 inch set – 8″, 14″, 22″ (20 cm, 35 cm, 55 cm) 2 of each so they fit the small and large knitting needles
5 inch set includes three cable lengths – 14″ (35cm), 22″ (55cm), and 30″ (75cm)
Notions – Set includes additions of coded cable connectors, end stoppers, T-shaped tightening keys, stitch markers, a needle gauge and a compact, zipper-enclosed black, white and red fabric case with a red ribbon
Sizes – Red Lace Twist comes in three types at ChiaoGoo
Small – US 2, 3, 4, 5, 6, 7, 8 (2.75, 3.25, 3.55, 3.75, 4, 4.5, 5mm)
Large – US 9, 10, 10.5, 11, 13, 15 (5.5, 6, 6.5, 8, 9, 10mm)
Complete – All 13 different sizes
Are They Comfortable? – Yes, this manufacturer has ensured the needles are comfortable, to make knitting more enjoyable
Do The Stitches Stay On The Needle? – They're a little slippery, but if you're careful, it shouldn't be a problem.
Durability – Made of super strong steel and a durable nylon-coated wire
Product Design
The Spin & Twist needle sets all have switchable tips, cables, and accessories!
Product Evolution
Add a lifeline as easily as knitting across a row with the needle tips.
Pros
The needles from these sellers have a slick surface
Smooth and fast tips (even sharper than compared to Addi)
They have a longer taper and are sharper than HiyaHiya tips
Nifty tools are included with every kit sold
Great reviews from happy knitters
Lifeline hole
The adapters are great for making longer cables
Lace knitters love this item
Excellent for the magic loop and knitting in the round
Cables are memory free
Needle size is laser etched on the needle tip
Enough room in the case for extra bits and pieces
The slots for the tips are clearly labelled. One side each for small and large
The case comes with a zipper part for storing notions for your project for added convenience and order (For example, scissors)
Cons
Some many find the collection of metal circulars uncomfortable to use
Knitters dislike the 'zing' sound the knitting needles make
Be careful when you pop your project in your bag. Use the stoppers so you don't have the issue of the stitches don't slide off the ends.
As with Hiya Hiyas, you can't use small needle tip cables with large needle tip cables.
If you do English knitting and push the needle with your finger, wear a thimble so you don't prick yourself. If you do Continental (picking) this won't be a problem
A complaint from knitters is that the cables are specific for either large or small tips
Twist Red Shorties Interchangeable Sets

Check Price On Amazon
Chiaogoo Twist Shorties are great for making small circumference knitted items. It makes circulars 9″ (23 cm) and 14″ (36 cm).
The tips of the Twist set have a tightening hole for securing the connection.
How Does It Compare?
Made Of – Steel circular needle tip, and a nylon/steel memory-free mini cable
Red Cables – 5″, 6″, 8″ (13 cm, 15 cm, 20 cm)
2″ Needle Sizes – US 0, 1, 1.5, 2, 2.5, 3 (2, 2.25, 2.5, 2.75, 3, 3.25)
3″ Needle Sizes – US 0, 1, 1.5, 2, 2.5, 3 (2, 2.25, 2.5, 2.75, 3, 3.25)
Notions – Red nylon fabric pouch includes cable stoppers, tightening t pins, cable extenders, stitch markers, and a mini needle gauge
Are They Comfortable? – Yes, but the fact steel circular knitting needle tips can cause discomfort for some people as they are pointy
Do The Stitches Stay On The Needle? – Yes, the stitches stay on since it's a smooth surface. You'll be content to knit confidently with these.
Durability – These needles are made of strong steel
Product Design
Chiaogoo shorties interchangeable needle set are great for socks, fingerless mitts, wristwarmers, sleeves, and baby items.
Pros
Small and compact
Comes in a handy pouch (see photo) which has a place for most small tools inside
Nylon-coated wire is durable
The transition from the needle to the cord doesn't catch the yarn
Cons
Needle tips this short take some getting used to
The small cables might be a little difficult to use
The screws to connect a pair of tips and two cables are small, so try not to lose it
Not suitable for magic loop
Twist Blue Shorties Interchangeables

Check Price On Amazon
Chiaogoo's Blue Shorties set makes circulars from 9″ (23 cm) to 14″ (36 cm). It includes 10 pairs of needles.
There is a tightening hole in the 2′′ (5cm) tips.
How Does It Compare?
Made Of – Stainless steel and grippy nylon/steel cables
Cord Lengths – Blue X-Flex cables (5′′/13cm, 6′′/15cm, 8′′/20cm) in a secure tip sleeve
2″ tip set needle sizes – Stainless steel solid and hollow interchangeable tips from US4 to US8 (3.5 to 5mm).
3″ Sizes – US 4 to 8 (3.5 – 5mm)
Notions – Blue nylon pouch with end stoppers, t pin tightening keys, connectors, stitch markers, and a mini needle gauge
Are They Comfortable? – Yes, although the small size means a knitter with tight tension might struggle to use them. It will depend on your knitting style
Do The Stitches Stay On? – Yes, though if you're used to longer needles or wood, they might be a little difficult to use
Durability – Super sturdy, high-quality materials
Product Design
The Blue Shorties have a similar design as the Red Shorties, just in blue and larger sizes.
They're great for small hats and other items.
Product Evolution
These are the newest version of ChiaoGoo's shorties, so they're worth trying if you love making miniature projects.
Pros
Great for small patterns or your tiny current project
Comes in a nice blue pouch which fits small items. Holds everything in place.
The join is even
Flexible cables
Handy stitch markers, a great way to mark pattern repeats
Get great results for small-circumference knits like hats, sleeves, and toys!
Reasonable shipping to Canada and other countries
Cons
The mini cable of this needle set might be difficult to maneuver
The labeled sizes aren't easy-to-read
A small diameter knitting needle set takes some getting used to, as it might cause some stress on your fingers. You will adjust the more you knit.
Note: The included screw is tiny, so be careful not to lose it
What Makes The Best Chiaogoo Knitting Needles
Here are key decision-making factors to consider when choosing the best Chiaogoo interchangeable knitting needles.
What's It Made Of?
All tips, including the lace tips, are made of surgical stainless steel. Most of their circular interchangeables have a steel cable coated with red nylon.
What Type Of Needles Are They?
They're all interchangeable circular knitting needles with a long taper.
How Long Are They?
The longer needle pieces are 5″, and the shorter tips are 4″. The mini sets are 2″. The metal needles come with a range of big and mini cables to suit your projects.
If you have larger hands, you may prefer the 5 inch length.
What Sizes Are Available?
Various sizes. Different needle sets have different choices, so you can choose the option that suits you best. Most sets have three versions: the small, the large, and the complete set.
Are They Comfortable To Use?
The tips are sharp but not too sharp, and the cable is flexible. The joins are smooth, so there's no snag when knitting.
If you have hand strain, metal may not be as comfortable.
Do The Stitches Stay On The Needle?
Yes, the stitches stay on the needle, however because they're made of surgical grade stainless steel, they're a little slippery. Something to keep in mind!
Are They Durable?
The tips are strong. The cables are also tough and withstand a lot of wear and tear.
What's Your Budget?
The price point for these needles is a little expensive, but if you're a big fan of smooth, premium needles, these are worth it.
Something cheap might save you money in the short term, but these last longer, making your knitting experience better for longer.
They make working with yarn so much easier!
Which Is Best For You?
Twist Mini Interchangeable Knitting Needles – Great if you love the Twist sets from Chiaogoo, but want to make smaller projects
Spin Interchangeable Sets – If you love bamboo, this is the only set you'll ever need!
Twist Interchangeable Sets – Super versatile, and it provides an excellent range of sizes
Twist Red Shorties Interchangeable Sets – Excellent for small projects and come in a great red pouch!
Twist Blue Shorties Interchangeable Sets – This is a wonderful choice if you want to quickly make small creations!
Comparable Options To Consider
For more interchangeable needles, read my review of the best.
This manufacturer also sells DPNS, fixed circulars, and straight needles. Plenty of other options to choose from!
Q&A
Here are some answers to common questions about these needles.
How To Tighten Chiaogoo Interchangeable Needles
Here is a great video tutorial on how to use the pin to tighten the connection.
You insert the t-pin included into a small hole, screwing both parts together to prevent them from becoming loose.
Use the key/pin and insert into the hole and get a bit more leverage as you turn tight.
It might be a little difficult to understand at first. Once you practice, you'll soon remember automatically.
Hiya Hiya Vs Chiaogoo Interchangeable
Here's a quick breakdown.
Chiaogoo
Sizes are laser printed on the pairs of needles
Less sharp than HiyaHiya
Has a lifeline hole
Smooth cable ends made of steel
Hiya Hiya
No sizes printed on them
Sharper lace tips than Chiaogoo
No lifeline holes
Cords are made of plastic
For more details, see my comparison of HiyaHiya and Chiaogoo needles.
How To Use Chiaogoo Interchangeable Needles
Here's a great tutorial on how to use this tool.
Where Are Chiaogoo Needles Made?
They're made in Hangzhou, China, and the company ship their items from Troy, Michigan in the USA.
Where To Buy Interchangeable Chiaogoo Needles
Most craft shops stock them, and you can find them online from brands like Etsy and Amazon.
Chiaogoo Interchangeable Needles 4 Vs 5"
Here are some pointers to consider.
The shorter tips might tire your hands quicker
People with long fingers might prefer the 5″, and people with shorter fingers are better off with the 4″
The 5″ set doesn't have cables for small projects. If you want to make socks, you'll need to use the magic loop method
Here's one of the helpful videos by Chantelle of Fiberific
Do The Chiaogoo Interchangeable Knitting Needles Contain Nickel?
Surgical stainless steel does contain a small amount of nickel. Chiaogoo states this in their FAQs "Our stainless steel products are made of surgical stainless steel that is hypoallergenic and, in most cases, not reactive to sensitive skin."
Can You Interchange The Tips On One Cord?
Yes, they're all interchangeable with each other.
Why Chiaogoo Interchangeable Needles?
Here are some great reasons buying these things is worth it!
They're versatile, and you can use them for a wide range of projects
The quality is excellent, and they're made to last
They have a great selection of sets to choose from
Perfect for projects that require small needles
Great smoothness for speed knitters
Replacement of tips or cables is easy
Value for money
The fabric case holds extra things
The cables have zero memory so don't get in your way
How To Connect Chiaogoo Interchangeable Circular Needles
Here is a tutorial on how to attach the handle to the cord.
Are Chiaogoo Red And Blue Cables Interchangeable?
Yes, they are. The only difference aside from the color style is the blue version is more flexible than the red.
What Is The Difference Between Chiaogoo Twist And Spin?
SPIN interchangeables have bamboo tips and a nylon cable that allows them to spin or swivel freely. TWIST interchangeables feature surgical stainless steel, lace tips, and a memory-free steel cable.
Why Are Chiaogoo Interchangeable Cables 14″ Not 16″?
The manufacturer doesn't offer a specific answer for this, however, the 14″ cable makes a 24″ cable with 5″ tips attached and 2″ shorter with 4″ tips. For a 16″ circular needle, you need a 8″ cable and 4″ tips.
What Does Chiaogoo Mean?
The ChiaoGoo company was founded by four brothers raised in Linan, China's bamboo capital. ChiaoGoo was founded because of their mother's knitting needs and father's bamboo craftsmanship.
Many knitters have interest in these tools. Anyone who appreciates high quality materials.
ChiaoGoo means "highly skilled and crafty lady" to honor their mother.
Read Next on my blog- Want a breakdown of the rest of the range? See more information and recommendations here.
If you're looking for a better way to knit small and big projects faster, look no further than ChiaoGoo needles. In my opinion they're a joy to knit with and a fantastic addition to a knitter's tool kit.
Lots of crafters love this brand too.
These are an excellent Christmas gift idea for a discerning knitter.
Happy knitting!
What's your favorite Chiaogoo set, and do you prefer the small sizes or large? What are your impressions? Have a question? Let me know in the comments.
Pin Now to Save for Later